Dr. Ben Edwards, wife Jamie and 6 children reside outside of Lubbock, TX where he works as the medical director of Veritas Medical, a nutrition and lifestyle focused clinic.
Dr. Edwards was born and raised in central Texas, graduated from Baylor University in 1993 with a B.A. in Biology and then received his Medical Degree from the University of Texas-Houston Medical School in 2002. He completed his family practice residency in 2005 at McLennan County Medical Education and Research Foundation in Waco, TX where he was Chief Resident.
Upon completion of his medical training, Dr. Edwards and his wife Jamie moved to Post, TX where he was the sole physician in the county at Garza County Health Clinic, garnering notoriety from the Lubbock Avalanche Journal, Texas Monthly, and the Washington Post for his very successful operation of a rural county health clinic. Success, however, was measured by revenue generation and not by the health of the patients. Dr. Edwards was introduced to Integrative and Functional Medicine in 2012 and quickly recognized that addressing root causes of disease produced much better clinical outcomes, although much less revenue generation, and he felt obligated to pursue this alternative approach to conventional medicine.
Dr. Edwards left his financially successful conventional medical practice and founded Veritas Medical in 2012. In the years since the founding of Veritas Medical, Dr. Edwards and his team have successfully helped educate and support thousands of patients on their journey from chronically ill to well.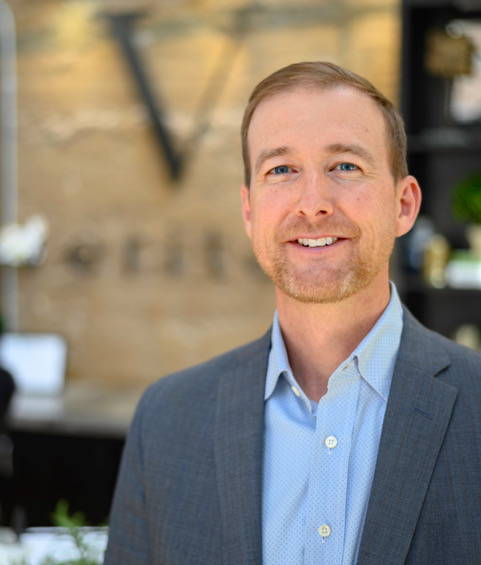 Veritas Medical is a nutrition and lifestyle based medical clinic located in Lubbock, TX with satellite branches in San Angelo and Abilene. Dr. Edwards founded Veritas Medical in 2012 after being introduced to Integrative and Functional Medicine practices that focused on addressing root causes of diseases, which are primarily related to nutrition, toxins and stress.
After witnessing some of his sickest patients in his conventional medical practice at Garza County Health Clinic in Post, TX obtain remarkable health improvements when they addressed these root causes, he felt obligated to make a change in his approach to treating chronic disease, shifting from chronic disease management to reversal. The reversal of disease can only be accomplished by allowing the patient's own body to heal itself. In order for the body to heal itself, each cell of the body must be allowed to operate in a manner consistent with it's original design. The cells function is influenced greatly by the environment that they operate in. This environment is influenced by nutrition, hydration, movement and peace...or lack thereof.
Many holistic, natural medicine practices offer what Dr. Edwards terms the "green version" of pharmaceutical-based medicine, substituting vitamins and supplements and other integrative techniques in place of prescription pharmaceuticals to treat the symptoms that are a result of a disorderly cellular environment. Symptom treatment, whether by synthetic man-made pharmaceuticals or by natural therapies, instead of addressing root causes, will still leave the patient vulnerable to symptoms and diseases later in life. Therefore, addressing the Veritas Four Pillars of Health: nutrition, hydration, movement and peace, and allowing the body to fix itself is the goal for every patient.
The Latin root word for physician means teacher and Veritas Medical strives to teach each patient that walks through its doors why they are sick and then support them in the diet and lifestyle changes that are required to bring order and health back to their bodies.